Non-Scale Victories Linkup # 6!
Too many of us base our success just on the number we see on the scale, but there is so much more to it! All the little changes we make are helping us make a healthier lifestyle. Whether you lost weight this week or not, let's celebrate your non-scale victories! So whether you said no to that birthday cake in the office, ran a 5k, or tracked your food every day this week. . . it is time to celebrate!
My non-scale victory for the week- Not throwing in the towel!
I don't have too many NSVs to share this week, but the old KTJ would have spiraled out of control after going so off- plan this past weekend. I needed to take a break from the scale and I'm glad I did and that I didn't pressure myself to
weigh in
. I know going to the meetings is good for me and I won't be making it a habit to not weigh in, but I've learned a lot about myself the past few days.
Honestly, in all the years that I've tried "dieting" I would easily take little breaks and eat bad and then just let it get out of control. Instead, I had my cheats, accepted it, and got back on track.
I know I've kind of repeated this same sort of thought process over and over, or maybe it just seems that way to me, but I can see a change in myself. I'm proud of myself for not giving up. I'm tired of giving up, I won't be starting over!
So What are your Non-Scale Victories for the Week?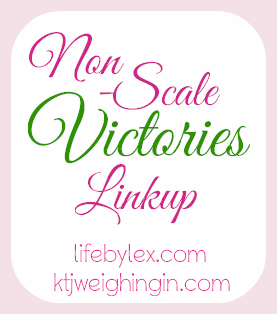 How to participate:
Write a post about your Non-Scale Victories for the week
Copy and paste the HTML code in your post
(
When you are in the compose screen, click the
HTML
button on the left to switch to HTML view.
Copy and paste
the code from the button. Then click the
COMPOSE
view again to see things like normal)
Visit as many posts as you can and offer encouragement and help celebrate everyone's NSVs