So, I've bought my
running shoes
and it is still snowing here in the Burgh, but it is supposed to start warming up next week. It all is leading to me giving this whole running thing a try. I've thrown around the idea of doing the
Couch 2 5k program
for awhile, but I don't have a treadmill and with the cold I knew I wouldn't keep up with it outside. So this Spring is the perfect time to try!
Instead of trying on my own, I was talking to
Kim
about the possibility of doing it with a little more accountability and that is when our new linkup/challenge idea was born!
Here is the game plan:
Each Tuesday, starting next week, we will have a linkup where you can update on your fitness that you've been doing or your couch 2 5k progress, basically any exercise related post moving you closer to your goals. Then you can visit as many other posts that linked up as you can to support each other on all your fitness goals. You can do the couch 2 5k program or you can do a different program, it is all up to you! The important thing is we can all get moving this Spring and hold one another accountable while offering advice and support! During the week you can also post about your fitness goals or achievements and connect on twitter by posting #ST5K
I associate Spring with April and the Couch 2 5k program is 9 weeks. Therefore, if you start the program on April 1st you should end the last week of May. Now, I've been told that doing it the first time you may need to repeat certain days and in general we wanted to give everyone notice to "condition" a little. So for March we will be "conditioning" and start our Spring Training in April.
The goal is that we will end by having a Virtual 5k on June 1st!!! No matter your athletic ability you can participate. From seasoned runners to beginners like me, anyone is welcome! You can run, walk, do a little of both. All you need to do is try your best! A virtual 5k is basically we will all run our 5ks on our own. You can do it on a treadmill or outside and then you will report your times. Of course if you are local and you want to get together and run it with me then we can do that too!
I will have a sign-up as we get closer and prizes will be awarded at random for all those who submit times, but the exact prizes are TBD.
Remember that it doesn't have to be pretty, but it gives us something to work towards! if you want to participate go ahead and grab our button (curtesy of
hubbyjack
) and post it on your blog's sidebar so people know you are participating in the challenge :)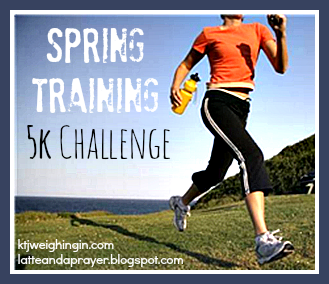 Please remember that taking on running may be a big change for you, so please make sure you speak to a doctor before changing your exercise routine. We all want to make sure we do this the healthy way :)
I'm so looking forward to starting this challenge with you all! So who plans on participating?