Non-Scale Victories Linkup # 8!
Too many of us base our success just on the number we see on the scale, but there is so much more to it! All the little changes we make are helping us make a healthier lifestyle. Whether you lost weight this week or not, let's celebrate your non-scale victories! So whether you said no to that birthday cake in the office, ran a 5k, or tracked your food every day this week. . . it is time to celebrate!
My non-scale victory for the week- Drum roll please. . .lol!
I went for my bridesmaid dress alterations! I for one hate being measured by people and standing in front of all those 3 way mirrors, but the experience is a little different when you see how much of your dress needs to be taken in!
I bought my dress in August and I've lost a whole size since then! Probably even a little more than a dress size really. The seamstress asked me about it and it did feel great saying that yes I have lost weight. I look forward to sharing with you all the finished product of what the dress looks like at the end of April :)
When you don't see the scale moving it is so important to remember that you could be losing inches! Definite boost in motivation!
I'm also so motivated by reading all the fitness posts from this week's first
Spring Training: 5k linkup
! I'm so excited to get in better shape and run a 5k with my blogging friends this June! It is said so many times, but it is a lifestyle change and my scale has been pretty blah lately, but I'm still noticing so many other great things, like my dress needing to be taken in!
So what is your Non-Scale Victory for the Week?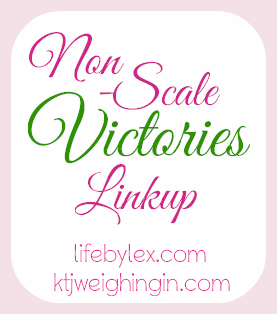 Write a post about your Non-Scale Victories for the week
Copy and paste the HTML code in your post
(
When you are in the compose screen, click the
HTML
button on the left to switch to HTML view.
Copy and paste
the code from the button. Then click the
COMPOSE
view again to see things like normal)
Visit as many posts as you can and offer encouragement and help celebrate everyone's NSVs