I will get to the Non-scale victories, but first I want to wish all my lovely blogging friends a happy Valentine's Day!
I'm single, but I don't hate on the holiday. I think you can show love for your friends instead! I really appreciate all the blogging friendships I've made in the past almost 2 months and so today you all can be my valentines. Sound good?
Also, if you signed up for an Accountability Buddy I am currently pairing everyone so expect an email with your buddy info sometime this weekend :)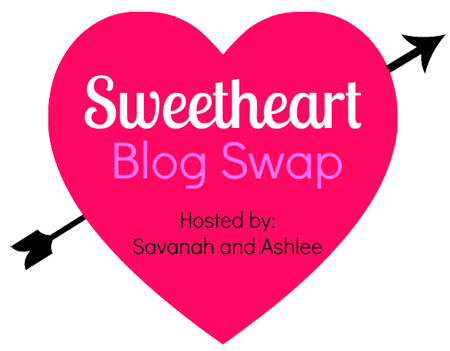 I did participate in The Sweetheart Swap and I was paired with
Kari
:) We exchanged some VDay gifts and she got me all sorts of fun stuff! I received some classic sweethearts, some m&ms (hey everything in moderation, right?), some strawberry shower gel, and finally some nice red nail polish! Thank you so much Kari!
. . .
Non-Scale Victories Linkup Week 4!
Too many of us base our success just on the number we see on the scale, but there is so much more to it! All the little changes we make are helping us make a healthier lifestyle. Whether you lost weight this week or not, let's celebrate your non-scale victories! So whether you said no to that birthday cake in the office, ran a 5k, or tracked your food every day this week. . . it is time to celebrate!
My non-scale victory for the week definitely is my workout motivation.
As I've recently been talking about, I recently started to workout with a personal trainer in a small group 2x a week. I feel like no matter what the scale says this week I am just so proud of myself. I know I already talked about it yesterday
here
, but I feel like it has been a long time since I've actually felt this sort of accomplishment. Sure, I excelled in school and found a job and all that good stuff and felt accomplishment then, but part of my known personal identity has been rooted in school overachiever mentality maybe and so I expect accomplishments there. I've been surprised by the fitness accomplishments.
I've been really reflecting on a lot lately and part of me wishes I could go back and talk to my former self and give me this awesome pep talk and let me know that I need to shut my mind down and just do it. It is never easy, but you will never do it if you don't try and when you try you may just surprise yourself. I honestly can't wait to see how much I can do after another 5 sessions!
So What are your Non-Scale Victories for the Week?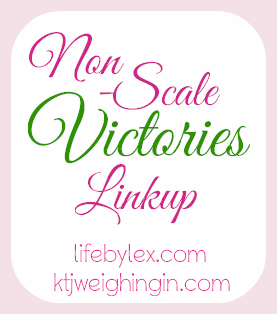 How to participate:
Write a post about your Non-Scale Victories for the week
Copy and paste the HTML code in your post
(
When you are in the compose screen, click the
HTML
button on the left to switch to HTML view.
Copy and paste
the code from the button. Then click the
COMPOSE
view again to see things like normal)
Visit as many posts as you can and offer encouragement and help celebrate everyone's NSVs
Linkup below :)