Today is the first Non-Scale Victories Linkup!
Too many of us base our success just on the number we see on the scale, but there is so much more to it! All the little changes we make are helping us make a healthier lifestyle. Whether you lost weight this week or not, let's celebrate your non-scale victories! So whether you said no to that birthday cake in the office, ran a 5k, or tracked your food every day this week. . . it is time to celebrate!

Here are some of my NSVs for the week:
1. I went down a clothing size!
This week I am proud to say that I've had a few NSVs! The biggest one is that I've finally went down a size! When I look at myself I still don't really see a difference. I haven't had comments from other people about looking like I've lost weight really either, I'm currently down 31 lbs. But, I have officially gone down a size! I'm very excited about this!
Until I reach my goal I don't really want to spend a lot of money on clothes if I am going to keep changing sizes, so I've been looking for some bargains. I actually went to a Gabriel Brothers over the weekend and got 3 pairs of dress pants that were Lane Bryant brand for $30. For the same pants at the store they go for $30-$40 a pair so it really was a great deal. With stores like Gabriel Brothers it really is hit or miss. You either find great steals or there is nothing. I was lucky to find some nice black and grey pants though because my old ones were getting baggy and hey I shouldn't look like a mess at work, right? I've been told that Sears has an outlet near me that has some good deals on clothes, but I haven't checked it out. If you happen to know of any stores that are national or in the Pittsburgh area that have great deals let me know!
2. I took the stairs!
Next, I was very happy with myself that I took the stairs over the elevator after leaving a play on Friday. I went and saw Les Miz on Friday, which if the Broadway series show is coming your way definitely check it out because it was amazing! After the show the parking lot was PACKED! The line for the elevator was super long so we decided to take the stairs and went up to the 8th floor! Seriously with the cold my lungs felt like they were going to explode, but I am sure that I wouldn't have been able to do that a few months ago. So I'll mark it down as a victory!
3. I planned a meeting with a personal trainer!
I don't belong to a gym. I would feel embarrassed going being so out of shape. I've been told by many people that others working out don't notice or care, but I know I'd worry about it the whole time. I know this holds me back in the exercise department a little during the winter. Well, I took a big step and, as I wrote about yesterday, I've planned a meeting with a trainer. I don't know if anything will come of it. I need to see if I like her personality and what she has to offer and of course the price is a BIG factor! So we will see, but still I feel like it is a good step looking into more exercise options. I'm getting closer to putting myself out there more.
What are your Non-Scale Victories this week?
Linkup and share!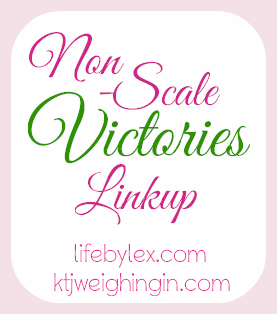 How to participate:
Please follow your co-hosts, Lex over at
lifebylex.com
and me :)
Write a post about your Non-Scale Victories for the week
Copy and paste the HTML code in your post
(
When you are in the compose screen, click the
HTML
button on the left to switch to HTML view.
Copy and paste
the code from the button. Then click the
COMPOSE
view again to see things like normal)
Visit as many posts as you can and offer encouragement and help celebrate everyone's NSVs!


Linkup below :)