First, you can enter my latest giveaway to win the book "This is Why You're Fat (And How to Get Thin Forever) by Jackie Warner HERE!
Non-Scale Victories Linkup Week 2!
Too many of us base our success just on the number we see on the scale, but there is so much more to it! All the little changes we make are helping us make a healthier lifestyle. Whether you lost weight this week or not, let's celebrate your non-scale victories! So whether you said no to that birthday cake in the office, ran a 5k, or tracked your food every day this week. . . it is time to celebrate!
Besides having my first session with a personal trainer (you can read about that
here
), my big NSV for the week is:
I need major bridesmaid dress alterations!
I was thrilled that I was asked to be my cousin's Maid of Honor in July. Together we went to look at bridesmaids dresses in August. First, I went with her to look at bridal gowns and to go to the store that had the dress she liked the most. Let me tell you, she looks gorgeous in that dress! Well, the saleswoman basically insisted that I try on bridesmaid dresses on the spot. I hadn't expected trying anything on and I wasn't really mentally prepared to be trying on all these dresses in a store where it was definitely not plus sizes. The woman looked at me and said she thought they had stuff that would fit. Yeah, ok lady. No way in Hell I was going to fit in the size 12s she was pulling out. I actually apologized to my cousin after attempting to humor the saleswoman and not being able to get the dress to even remotely fit and said I wouldn't try any more. My cousin wasn't annoyed or anything, she didn't realize the saleswoman was going to do that, but my first experience picking out dresses was awful.
Our second venture to find a dress was about a week later. We went to David's Bridal, which has all sizes. Unfortunately, the dress we both liked the most they didn't have in my size in the store. So I had to try on the size smaller and just not zip it. Not my shining moment. The saleswoman was really nice there though. She apologized for them not having the size like they should and we ordered my correct size and all was good.
Well, I tried on the dress to show my sister what it looked like yesterday and yeah it is practically falling off. It is so big! I've only gone down one pants size, but I need some definite alterations on this dress now! The wedding is in April so I still have a few more weeks to try to lose a few more pounds before I need to get alterations, but it really did feel great seeing how much I'm going to need to have it taken in! I may have only lost 35 pounds, but my shape is definitely changing :) I know this is similar to my NSV for last week about losing a clothing size, but I've just been really excited about it!
Actually, I was asked to be a bridesmaid in another wedding that will be in October and we went to look at dresses last Sunday. We went to the same store and the samples in the store I was wearing in the smaller size. I'm looking forward to what size I could actually be in come October!
So What are your Non-Scale Victories for the Week?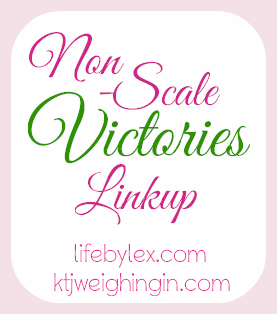 How to participate:
Write a post about your Non-Scale Victories for the week
Copy and paste the HTML code in your post
(
When you are in the compose screen, click the
HTML
button on the left to switch to HTML view.
Copy and paste
the code from the button. Then click the
COMPOSE
view again to see things like normal)
Visit as many posts as you can and offer encouragement and help celebrate everyone's NSVs
Linkup below :)