So what do Facebook and personal trainers have to do with each other? Nothing really, besides being contacted by a trainer on Facebook. But I will get to that later.
First, a few people have asked me why my blog doesn't have a Facebook page. Well. The answer is pretty simple in that I'm a new blogger and I hadn't made one yet. No excitement or deep thoughts there.
But now I've been thinking about it and I've decided to make one. Well, actually a group, not a page.
I decided to make a group because I think weight is a sensitive topic. A lot of people reading this blog may not be comfortable publicly joining a weight loss page and writing comments or asking for support if all their Facebook friends can read it. So I was thinking. Why not make a closed group? So I did. If you'd like to join my blog group on Facebook you can request to join
here
:)
Transitioning to personal trainers. . . A local trainer contacted someone that I go to Weight Watchers with to see if we would be interested in training with her. She apparently works a lot with overweight people and tries to make it a supportive atmosphere where you don't feel judged. That sounds pretty good to me! I scheduled a meeting with her for
tomorrow night.

Has anyone ever used a personal trainer before? What do you look for in a trainer? What questions would you ask a perspective trainer?

I appreciate all the help blogger friends :)

Oh and this perfectly goes with tomorrow's linkup for Non-Scale victories!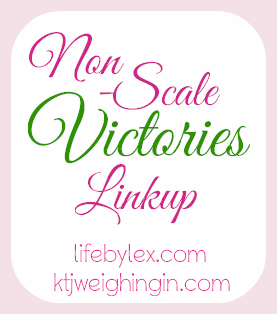 To participate, write a post about your non-scale victories this week and copy the HTML code for the button and insert the code into your post so that you have the button on your page.

To use the code:

Just go to a compose a post like normal. When you are in the compose screen, click the

HTML

button on the left to switch to HTML view.

Copy and paste

the code from the button. Then click the

COMPOSE

view again to see things like normal.





Then visit me back here to linkup your post! I'm excited and can't wait to read about all your NSVs!